News
Posted by Maggie Weldon on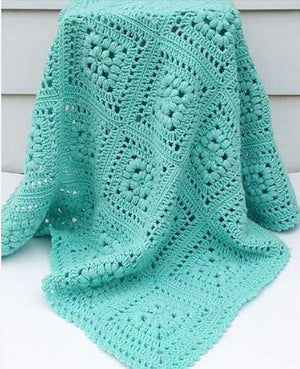 Have you just completed a beautiful afghan pattern from Maggie's Crochet? How about a shawl, cape or even potholder set?
Well, we'd like to show off the creativity of our customers through our social media accounts on Instagram and Facebook! Send us your finished photos, your works in progress and even your gift-receivers wearing your item!
We can't get enough of the emails you send us, but now we want everyone to be able to enjoy the beauty that comes through our email daily.
Come on and share the support and love we have going with the world! It doesn't matter if you're a first-timer or seasoned expert, we're here to support each other in our craft.
If you want to share how your hard work turned out, you can send us an email at customerservice@maggiescrochet.com or you can post your photo on Instagram or Facebook and tag us with @maggiescrochet or #maggiescrochet. We look at all our comments, tags, mentions and reposts and love to build up and support the community of crocheters that we have. 
Until next time!
Maggie
Posted by Maggie Weldon on
With so many options available on our site, we thought we'd do a quick roundup of our top 5 favorite crochet pattern ideas and gifts for Mother's Day! Take a look and see why we think these are the best!
These crochet flower bouquets are lovely all year long and never wilt or die. These beauties can be made in mom's favorite colors too!
2. Let her know she's the center of your universe!

This easy and cozy afghan worked in square motifs was designed to represent the planets in the solar system. Its a great project to use up extra or scrap yarn that may be hanging around for a perfect pattern!

These country baskets are great for any area, table or just for fun! Who wouldn't like an extra basket with a little love woven in along the way?
Perfect for a coordinated kitchen decor, this crochet set offers multiple pieces that can pull the look together with ease. Not a fan of flowers? Check out the bluebirds instead!
This lovely pineapple cowl would look great with just about any outfit! Pair it with a T-shirt, jeans and stylish shoes and you have a fashion forward outfit that is easy and simple!
Don't wait too long! Before you know it Mother's Day will be upon us!
Until next time!
~ Maggie
Posted by Maggie Weldon on
Summer is just ahead and with it comes trips to the beach!
This Seaside Collection crochet pattern set is perfect to get for mom (or yourself) as you get ready for your summer outings. The set comes with a hat, tote, eye glass case, headband and water bottle carrier which is sure to make your trip a breeze! 
Follow this link to grab yours today!
Seaside Beach Collection crochet pattern download
Don't forget to follow us on Instagram and Facebook for the latest updates and behind-the-scenes fun!
Until next time!

Maggie
Posted by Jen Carraway on
These simply adorable vintage floral slippers are perfect to keep your toes nice and snuggly warm on a cool spring morning! Quick to make, this pattern would be a great gift for mom this year!
Don't forget to follow us on Instagram, Pinterest and Facebook for more updates as we continue to roll out new products and specials!
Until next time!
Maggie
Posted by Jen Carraway on
With Mother's Day fast approaching, there are so many wonderful ideas you could make or give this year! This lovely crochet garden cozy set just brings a smile to our face every time we go to use it, we know you will love it too! It's just one of many patterns that we will be featuring in the coming weeks to help figure out what to get mom this year!


---