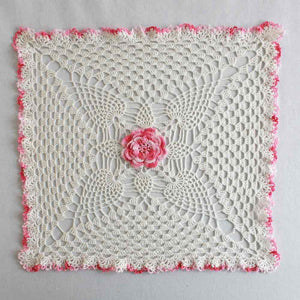 Pineapple & Rose Granny Square Doily Crochet Pattern
SKU:
PT008 - 01
Design By: Maggie Weldon
Skill Level: Easy
Size: About 16" square
Materials: Size 10 Crochet Cotton Thread:
White - 225 yds
Shaded Pinks - 75 yds
Thread Needle.
Crochet Hook:Steel No. 7 (1.65 mm).
Crochet Pattern for Pineapple & Rose Granny Square Doily 
Pineapple & Rose Granny Square crochet pattern, also known as model PT008, is a
special project that will impress and excite you. As one can see from the photo, this
project is truly a work of art. Even though it may seem quite complicated, we assure
you that the crochet pattern makes it an easy task. The balanced use of color, as well
as the use of different techniques, hides the fact that a person need only have a basic
skill level to produce something this fine. It's a pity that there aren't many crochet
patterns like this, that make the easiest designs look complicated and difficult to
execute. We solemnly assure you that this crochet pattern is easy to make.
As strange as this seems, the techniques required to make the Pineapple & Rose
Granny Square are only the basic techniques of the crochet craft. Its complexity is
not in the execution of the crochet, but rather in the original design of the crochet
pattern. It took a lot of time to design a crochet pattern that would create an
impressive-looking product that was still easy for the crafter to crochet. This kind of
crochet pattern is truly worth spending a small fee to obtain. With a simple number
7 crochet hook, white thread, and shaded pink thread, you can create something
extraordinary, something like what your grandmother may have created.
If you follow the crochet pattern and use the proper materials, you will find yourself
with a 16 inch crochet square of the highest quality. This pattern only requires some
spare time, not knowledge of expert crochet techniques. Even the time required is short,
if you take into consideration the beauty and finesse of the finished crochet product.
The wonderful use of new threads in this recent crochet pattern, such as the shaded
pink for the rose, makes all the difference in the finishing of the crochet square.
Whether you are an experienced crochet crafter or a beginner, this crochet pattern
will show off the elegance and harmony of a crochet granny square.
---
We Also Recommend
---