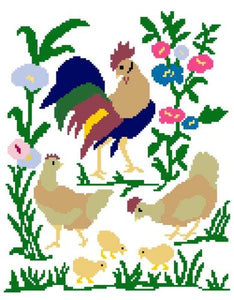 Filet Rooster Crochet Pattern
SKU:
PA830 - 01
Edited By:Maggie Weldon
Intermediate Skill
Materials:Thread or yarn of choice.
Option of one color or colors as shown in chart.
Yarn or thread needle.
Crochet Hook:Suggested sizes:
For Size 20 Thread use Steel No. 10 (1.30 mm)
For Size 10 Thread use Steel No. 7 (1.65 mm)
Gauge:Dependent on thread and size of hook used.
Size:Dependent on thread and size of hook used.
Years ago I bought a very old set of filets crochet patterns from Paris, called "Le Filet Ancien" Au Point De Repries, Wolf & Dupeyron editors. It was ancient all right - still is. There are forty pages of beautiful designs including lots of cherubs, birds, flowers, motifs, edges, etc. It is my plan to restore many of these pages, which are in very poor condition. I've started with a few of my favorites, the calendar and the dancers. 
Filet Rooster features elegant filet crochet roosters, hens, and chicks. Large easy to follow chart. Each graphed pattern is printed on 11" x 17" pages with page with general filet crochet in instructions included.
The original vintage crochet pattern!!!
---
We Also Recommend
---