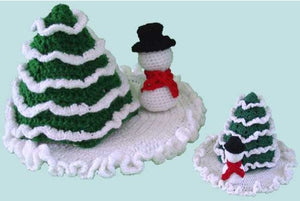 Winter Wonderland Set Crochet Pattern
SKU:
PA826 - 01
Designed by: Lisa Pettipas
Skill Level: Intermediate
Sizes: Mini Display:Christmas Tree 4" Tall;
Snowman 2" Tall without Hat;
Doily 5" Diameter
Maxi Display: Christmas Tree 8" Tall;
Snowman 4 ¼" Tall without Hat;
Doily 11" Diameter
Materials:
Mini Display:Size 10 Crochet Cotton Thread:
White (W) - ¾ oz, 107 yds;
Green (G) - ¾ oz, 107 yds;
Small amount Red (R) and Black (B).
White Glue; Plastic Bag; Fabric Stiffener; Flexible Cardboard;
Flat Styrofoam; Steel Pins; Plastic Wrap; Fiberfill.
Maxi Display:Worsted Weight Yarn:

White (W) - 3 oz, 198 yds;
Green (G) - 3 oz, 198 yds;
Small amount Red (R) and Black (B).
Flexible Cardboard; Staples; Fiberfill.
Crochet Hook: Mini Display- Steel #7 (1.65 mm)or size needed to obtain gauge.
Maxi Display-Size F-5 (3.75 mm) or size needed to obtain gauge.
Gauge: Mini Display– 10 dc = 1"; 4 Rows dc = 1"
Maxi Display– 5 dc = 1"; 4½ Rows dc = 2"
Winter Wonderland Crochet Pattern
It is nearly impossible to build a snowman out of any type of snow other than packing snow – unless you are a crocheter! Crochet allows for the construction by simply crocheting a ball of snow until it grows the desired size. Attempting to make a snowman out of yarn is extremely simple. No need to wait till it freezes! Thus the best time to build a snowman is usually any day regardless of snowfall or a sufficient amount of snow.
Dressing a snowman in clothing insulates the snowman by keeping out the heat, which means a longer life for the snowman. Snowmen usually melt quite quickly on a hot day, but yours will still be standing to enjoy for years to come. 
Create these happy designs in two different sizes -- just choose from worsted weight yarn or cotton thread. If you can work a slip stitch, single crochet, and double crochet, you can create these designs. Because these designs are simple, you'll want to buy your pattern now so you can make plenty of decorations before the holidays arrive!
Pattern includes Snow Doily, Snowman & Tree patterns.
Simple Crochet pattern for your enjoyment!
---
We Also Recommend
---