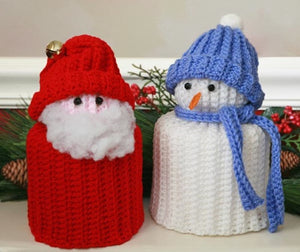 Simple Santa and Snowman TP Toppers
SKU:
PA934 - 01
Design by: Maggie Weldon
Skill Level: Beginner
Size: 10″ tall.
Materials: Worsted Weight Yarn:

Fiberfill; Yarn Needle; Four 8 mm Black Beads for Eyes (2 each); Hot or Craft Glue;
Santa: Red (MC): 2 ½ oz, 138 yd (70 g, 124 m); Pink (CC): 1 oz, 55 yd (28 g, 50 m); ¾″ Jingle Bell;
Snowman: White (MC): 1 ¾ oz, 96 yd (49 g, 86 m); Blue (CC): 1 ¼ oz, 69 yd (35 grams, 62 m);
Small amount Orange (O); Small piece of cardboard for Pom-pom.
Crochet Hook: Size H-8 (5.00 mm) or size needed to obtain gauge.
Simple Santa and Snowman TP Toppers
Holidays are usually bustling with family and friends enjoying good conversation and food. With people over at your home during this festive time, make your extra toilet paper rolls discreet with these two festive toppers. The Simple Santa and Snowman TP Toppers are sure to bring a smile to your guest's faces and add some cheer to an otherwise overlooked space. Bathrooms are often overlooked when it comes to holiday decorations. These toilet paper toppers make an excellent crochet project to get your bathroom in the holiday spirit, just like the rest of your home. Just thinking about the toilet toppers function once they are completed will give you delight and joy with each crochet stitch you take. What other kind of project will give you a giggle like the Simple Santa and Snowman TP Toppers?
The Simple Santa and Snowman TP Toppers use a worsted-weight yarn and basic crochet stitches. This makes the pattern an easy crochet level, which is perfect for all crochet skills. A completed toilet paper topper stands about 10 inches tall once you stuff a roll into the bottom. The toilet paper roll gives the Santa or snowman shape, and supports the topper when you set in on the toilet tank or bathroom shelf. If you are at a beginner crochet level, then choose this pattern as a first crochet project choice. Make sure to start these festive little guys before the holiday season. Then you can make sure they adorn your toilet so you can enjoy their cute little faces throughout the holidays.
---
We Also Recommend
---