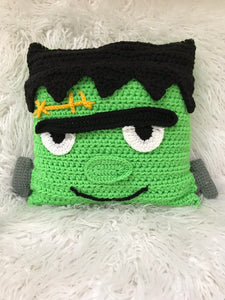 Crochet Pattern Beginner Project Frankenstein Pillow
SKU:
PT052 - 01
Design by: Maggie Weldon

Skill Level: Easy
Crochet this quick and easy to crochet Frankenstein Pillow pattern for beginners using a large crochet hook and two strands of worsted weight yarn. This is a great crochet project using simple crochet stitches that will add a spooky touch to your Halloween Decour. Using two strands of yarn allows you to make the pillow very quickly. 
The other Holiday Pillow set LINK includes a pillow for every season, whether you want a heart for Valentine's Day, bunny for Easter, pumpkin for Halloween or Santa for the Christmas holiday. Crochet pillows will add a decorator's touch to your home and adorn the room all year long for a festive feeling.
Other popular holiday crochet patterns include:
Santa Toilet Cover Crochet Pattern
http://www.maggiescrochet.com/santa-toilet-cover-p-1099.html
Santa and Snowman Bag Keeper Crochet Pattern
http://www.maggiescrochet.com/santa-and-snowman-bag-keeper-patterns-p-130.html
Vintage Christmas Doilies Crochet Pattern
www.maggiescrochet.com/vintage-christmas-doilies-p-1734.html
Christmas Ornaments Set 2 Crochet Pattern
http://www.maggiescrochet.com/christmas-ornaments-set-2-pattern-p-440.html
Soft Sculpture Christmas Trees Crochet Pattern
http://www.maggiescrochet.com/soft-sculpture-christmas-trees-p-1573.html
Christmas Through the Home Crochet Pattern
http://www.maggiescrochet.com/christmas-through-the-home-pattern-p-1199.html
Christmas TP Toppers Crochet Pattern
http://www.maggiescrochet.com/christmas-tp-toppers-pattern-p-1188.html
---
We Also Recommend
---