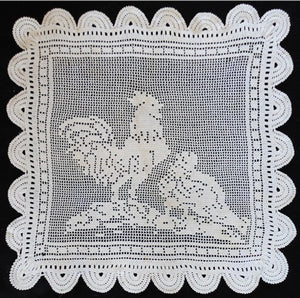 Vintage Filet Rooster & Hen Crochet Pattern
SKU:
PB074 - 01
Watch the Vintage Filet Rooster & Hen Crochet Pattern product review video!
Original Vintage Filet Rooster & Hen Crochet Pattern Design By: Maggie Weldon
Easy Skill
Materials:Thread or yarn of choice.
Either Size 20 Crochet Thread - about 800 yds;
Or Size 10 Crochet Thread - about 1,200 yds.
Yarn or thread needle.
Crochet Hook:
Size determined by thread or yarn used.
Suggestion:
For Size 20 Thread use Steel No. 10 (1.30 mm)
For Size 10 Thread use Steel No. 7 (1.65 mm) 
Size: 
Depends on thread or yarn used.
Model made with size 20 thread measures about 16" wide and 15" long (without border); [21" wide and 19½" long - with border.]
My Design Inspiration: 
I have always loved roosters. When I was young we lived in a house that had hardwood floors, ten-foot ceilings and knotty pine cabinets in the kitchen.  On top of the cabinets my mom had her collection of painted ceramic roosters.  I think they were Majolica Roosters. Years ago I lucked out and found a large hand-crafted ceramic rooster at a garage sale for one dollar! That rooster has graced my dining-room table for years. I also have a beautiful black metal rooster plate holder, which holds two plates, hanging on my dining room wall. 
This beautiful piece of vintage filet crochet lace, with the rooster and hen design, I bought years ago at an antique store. It is one of the classic crochet patterns of all time. The filet design of this Rooster and Hen is very similar to a crochet pattern we found in a crochet book published in 1914.
How it is Made:
The Filet Rooster and Hen crochet lace is created by following the filet crochet technique of using open and solid blocks. A chart detailing the blocks is included in the crochet pattern. You can use any size crochet cotton thread for this project, but the results will vary depending on the thickness of crochet thread that you use. (Our model was made with size 20 crochet cotton thread.) Once the filet piece is complete, a gorgeous scalloped shell border (which is crocheted separately) is sewn on around it to frame the filet crochet picture.
Oh, Yeah… 
Imagine what this would look like professionally framed and hanging in your dining room! Or what about tacked to the front of a pillow on your couch? You could also make it using sport-weight yarn and end up with a small afghan. The other option is to use different colors when crocheting this to create a masterpiece.
Easy beginning vintage cochet pattern to begin your crochet collection!!
---
We Also Recommend
---