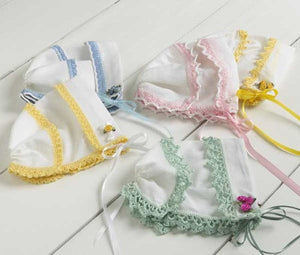 Heirloom Hankie Baby Bonnets Crochet Pattern
SKU:
PA956 - 01
Design by: Beverly Westmoreland & Maggie Weldon
Skill Level: Easy
Size: Fits any size handkerchief.
Materials: Yarn Needle; Sewing needle and thread to match Hankie;
Size 10 Crochet Cotton, about 60 yd (54 m) per edging; 36″ (90 cm) of ¼″ wide Ribbon;
Ribbon Roses or Pearl Beads for embellishments.
Crochet Hook: Steel Size 10 (1.30 mm) and Steel Size 7 (1.65 mm) or sizes needed to obtain gauge.
Heirloom Hankie Baby Bonnets Crochet Patten
A pile of heirloom hankies is often tossed aside with no real purpose or use for them. Transform those delicate hankies into a precious gift using the Heirloom Hankie Baby Bonnets pattern. If you don't have heirloom hankies to use, purchase new ones and turn them into a cherished heirloom gift. The pattern includes instructions to add dainty yellow, green, pink and blue embellishments to the hankie bonnets. Elegant touches are increased when you add ribbon, roses and pearl beads to accentuate the delicateness of each. Every Bonnet is a unique creation designed to become a treasured family heirloom passed down from generation to generation. What a great way to start a new family tradition or build on an old one.
Each crochet pattern contains two special poems meant to be included with each Bonnet. Part of one of the poems reads:
After baby's worn it,
Fold and tuck away...
And it becomes a hankie
For your daughter's Wedding Day.

Or if the baby is a boy,
On the day he marries
This can be the ″something old″
His joyful bride will carry.
Think of the joy this special gift will bring to the receiver. The pattern works with any size handkerchief, so there are no worries about finding the perfect size for this project. Use the one that special to you and transform it into this delicate bonnet. Heirloom Hankie Baby Bonnets are an easy crochet project. Any crochet skill level can easily make one of these heirloom crochet bonnets for the special person in their life.
---
We Also Recommend
---