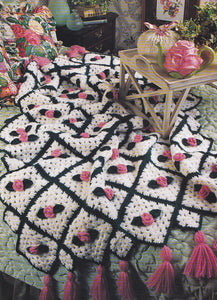 Rosebud Granny in a Jiffy Afghan Crochet Pattern
SKU:
PA065 - 01
Rosebud Granny in a Jiffy Afghan Crochet Pattern
Original Design By Maggie Weldon
Easy Skill

Size: About 47" wide and 72" long

Materials: Bulky Weight Yarn: White (MC) - 45 oz, 2025 yd (1275 g, 1845 m)
Rose (A) - 9 oz, 405 yd (255 g, 369 m)
Forest Green (B) - 21 oz, 945 yd (595 g, 861 m)
Lion Brand Jiffy used for model

Additional Materials: Yarn Needle

At Maggie's Crochet, you will find hundreds of delightful crochet patterns. Many of the patterns offered at Maggie's Crochet come with detailed instructions and are fun for both newbies and experts of the art of crochet. Whether you are just trying to learn a new hobby or you are a crochet enthusiast, Maggie's Crochet has crochet patterns for you. One of our most unique crochet patterns is the Rosebud Granny in a Jiffy Afghan pattern.

The Rosebud Granny in a Jiffy Afghan pattern is a one-of-a-kind, gorgeous design. This afghan is sure to make a great gift for any of your loved ones. This unique afghan crochet pattern is made with granny squares with exceptional rosebuds on each square to bring depth and character to the project. The afghan brings a uniform look with fun tassel edges and is perfect for the beginner or expert in crochet.

This crochet pattern uses white as the main color with dark green edging for each square. The squares are uniform and fun. The tassels on the edge are made with the same color as the rose which pulls the blanket's look together. The colors used in the preview are charming, but any main color of your choice would look great with this crochet pattern.

One of the great things about the crochet patterns at Maggie's Crochet is that they are available to be mailed or downloaded in a PDF format. With the second option, there is no more worrying about paying for shipping or waiting for your crochet patterns to arrive in the mail.
Perfect for the beginner or proficient crocheter!
---
We Also Recommend
---