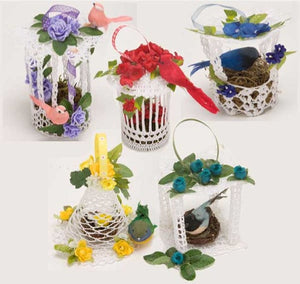 Lace Bird Cages Crochet Pattern
SKU:
PA982 - 01
Original Design by: Tammy Hildebrand
Skill Level: Intermediate
Size: Finished measurements:
Lavender: Bottom 3 1/4" across, 5 1/2" high, Top 5 1/2" across
Red Dome Top: Bottom 3 1/4" across, 6" high, Top 5 1/2" across
Blue: Bottom 3 1/4" across, 5 " high, Top 5 1/2" across
Square: 4" wide by 4" high
Tepee Base 5 1/4" across, Top 3 1/2" wide at bottom, 5 1/2" high
For this pattern, you will need:
Materials: Size 10, 100% mercerized cotton.
Lavender, Red Dome and Blue - White 70 yd (63 m) each;
Square and Tepee - White 50 yd (55.5 m) each;
(Examples shown used Art. #153 Aunt Lydia's Classic Crochet Thread)
Yarn needle; Starching materials; Ribbon for hanger; Hot glue gun; Optional decorations such as birds, flowers, etc.
Crochet Hook: Steel Hook # 4 (2.00 mm) or size needed to obtain gauge.
Enjoy a little whimsy with the five beautiful bird cages found in the Lace Bird Cages pattern. These  charming designs will add just the right about of whimsy and decoration to a porch, sun room or bright area in your home. Every home can use a little charm, so why not crochet on of these cute home decor items to hang on a mantle or set out as a centerpiece for your table. The finished cage size ranges from 3-1/4 inches high to 5-1/2 inches high to fit nicely on a Christmas tree. Birds are a calming and cheerful image, so just imagine all the places you can put these whimsical little sets. No matter where they are you'll enjoy their beauty and splendor. The pattern includes instructions for all five cages shown in the sample. Fill the cage with foliage and birds available at a craft store. The finished project is perfect as a housewarming gift or for anyone that loves birds.
Lace Bird Cages, designed by Tammy Hildebrand, use 100 percent mercerized cotton for a light and delicate appearance. The fanciful stitches and designs in this pattern sets these creative cages at an intermediate skill level. Simple changes to the color of thread used to make the cages makes them holiday specific. Add some red or green thread and place a cardinal in the cage for a Christmas decoration. Use pink thread for the cage edging and place pink and white birds inside for love birds on Valentine's Days. Get creative with how you make these fun bird cages and you will be surprised with the possibilities.
---
We Also Recommend
---