It's widely understood that the Guinness Book of World Records is the pen-ultimate source for all things extreme – from biggest to smallest to longest to shortest – any significant polarity is celebrated in this wonderfully eclectic encyclopedia.
Here are just a few entries from – or attempts to break – knitting/crochet Guinness records and make it into the book!
(n.b. This information is gathered from various sites)
World's Largest Coat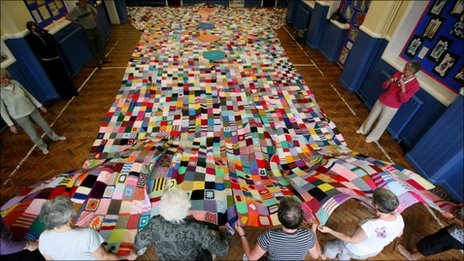 Children and parishioners in Stockport have broken the world record for the largest coat, after a community knitting project; the World's Largest Coat is made up of nearly 8,000 knitted panels and measures 42ft 6in high and 18ft 2in wide.
Largest Hand Knitted Blanket
In an attempt to break a Guinness World Record for the largest hand knitted blanket, pupils, teachers, parents, relatives, organisations and other Curro schools namely Roodeplaat, Serengeti, Langebaan and Helderwyk started knitting.
Most People Knitting At One Time
Attendees at Sock Summit 2009 attempt to break the world record of most knitters knitting together at the same time.
A Self-Proclaimed World's Largest: Yarn Stash
Viewing this stash is like walking into a gothic cathedral: it inspires those in its presence to renew their belief in God (or knitting, as it were).
World's Largest Knitted Sculpture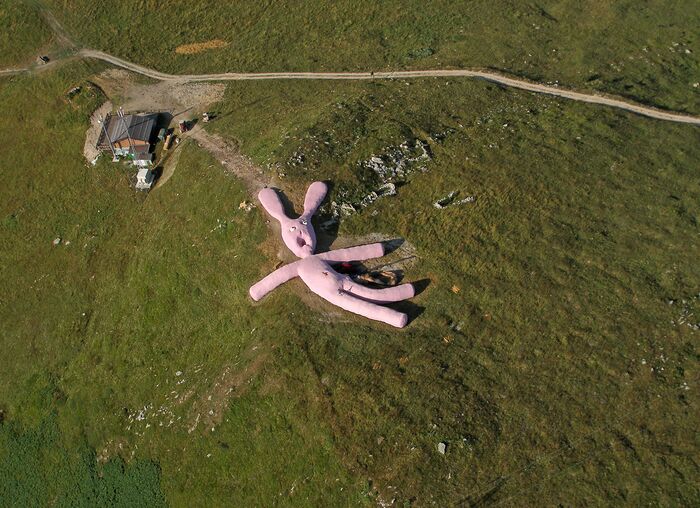 After a year of knitting, and seven weeks of assembling the pieces made out over 1000 kg (2200 lbs) of wool, they erected a 61M (200 ft) long pink knit rabbit "Hase" on the side of a mountain in Italy.
AND
If you win recognition, you'll receive a certificate congratulating you!